TRADEWINDS
Frangou and Marinakis deliver $1.8m hospital donation as Covid-19 ravages Greece
Shipowners assist state efforts as their country fails to repeat sterling performance against the pandemic
10 December 2020
Angeliki Frangou and Evangelos Marinakis have teamed up to donate equipment for a dozen intensive care unit (ICU) beds to an Athens hospital as Greece struggles to cope with the coronavirus pandemic.
Health minister Vassilis Kikilias expressed his gratitude to the two Greek shipowners as he formally took delivery of the units in the General State Hospital of Nikaia.
"We would like to thank them, because amidst a coronavirus pandemic and a crisis they have taken practical steps to help the National Health System," he said.
"All 12 beds and medical equipment are state-of-the-art and they have been delivered very quickly," said Marinakis, who himself contracted the disease earlier this year. "This means a lot, since our country needs them now more than ever."
Purchase and installation of the ICU equipment is said to have cost €1.5m ($1.8m). Ion, a Greek chocolate maker, also contributed to the financing.
"We would like to thank the doctors, nurses and all the staff working at this hospital," Frangou said. "This is a very small offer, in order to facilitate their work and to thank them for what they do and protect us."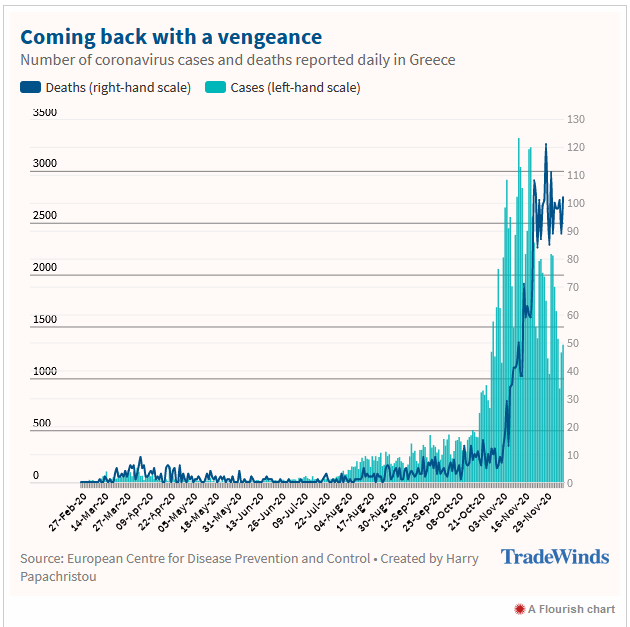 Donations from shipowners helped Greece manage the disease particularly well when its first wave spread earlier this year.
Since late summer, however, coronavirus has come back with a vengeance as Greece opened up for tourism, health safety discipline relaxed considerably among the population and the government failed to announce lockdowns quickly enough in key hotspots.
Coronavirus cases and deaths have spiked in recent weeks (see graph above). Since late November, about 100 people have been losing their lives each day. Shipping minister Yiannis Plakiotakis has been hospitalised in Athens with Covid-19 since 24 November.
With a death toll of 12.05 per 100,000 of population in that period, Greece is currently worse afflicted than the UK, France or the US, according to figures by the European Centre for Disease Prevention and Control (see map at bottom of this story).
Death numbers are swelling largely because the capacity of the state health system to treat patients is stretched to the limit.
Μore than 80% of all ICUs across the country are occupied, Kikilias told a press briefing on 9 December. The ratio in the greater Athens area, where shipowners like Marinakis and Frangou have focused their donation activity, is somewhat lower than the national average, standing at 77%.
In Thessaloniki, by contrast, the country's second-biggest city, the ratio stands at 91% and the state has mobilised private clinics to help treat patients.