INSIDE WORLD FOOTBALL
Interview: Exclusive. Olympiacos's Evangelos Marinakis – Enough with the Mr Bad Guy
15 February 2017
February 15 - Evangelos Marinakis is a big guy. He is physically big, he has a big shipping empire, he has the biggest football club in Greece, Olympiacos, and he is the big player in the social fabric of his home town Piraeus, a district of Athens, Greece.
He also generates big passions, both for and against himself personally. It is a divided opinion on a man who, for the most part, keeps himself away from the press even though his (Greek) press profile is extraordinary. There are plenty of reasons for this media aversion.
Marinakis has been variously - and it becomes clearer upon closer investigation, dubiously - accused of fixing matches, bribing and intimidating referees and being the head of an organisation that carries out this type of activity. While the allegations have been levied against him literally non-stop over the past five years, the evidence has so far been proven non- existent and one by one, both the courts and sports regulators, have dismissed all charges against him.
"The things that I am accused of couldn't be further from my mentality and the way I operate as a person. They are not only untrue, they are unthinkable. I do not answer publicly, by choice. Maybe it is a mistake since others speak all the time, but it is not in my philosophy to feed the small minded vicious cycle of unsubstantiated 'yellow' rumors. I prefer justice to take its course no matter how long this will take in Greece." says Marinakis wryly in the smart offices of his global shipping company in London's Kensington.
He is smiling when referring to one of his arch rivals, Giannis Alafouzos, president of Panathinaikos and owner of SKAI TV whose family also owns Kathimerini newspaper among other media. Alafouzos has not been shy to use his media to attack Marinakis and has been convicted in the courts (three times including suspended prison sentences) of breaking Greek privacy laws as a direct result of it.
"I like to concentrate on Olympiacos and focus all my efforts on the development of this historic club that carries at its heart the passion, the loyalty and the pride of millions of fans in Greece and abroad. As our country is striving to find its way out of the prolonged economic crisis Olympiacos must remain very competitive. In this environment, it is very challenging to operate on a high level but we have succeeded and Olympiacos has been at the top constantly. Every day the results speak for themselves. We are one of the most successful teams in the Champions League and we are ranked in the 17th position in UEFA rankings for the most successful clubs in UCL We also have many compliance obligations and regulations to observe" said Marinakis.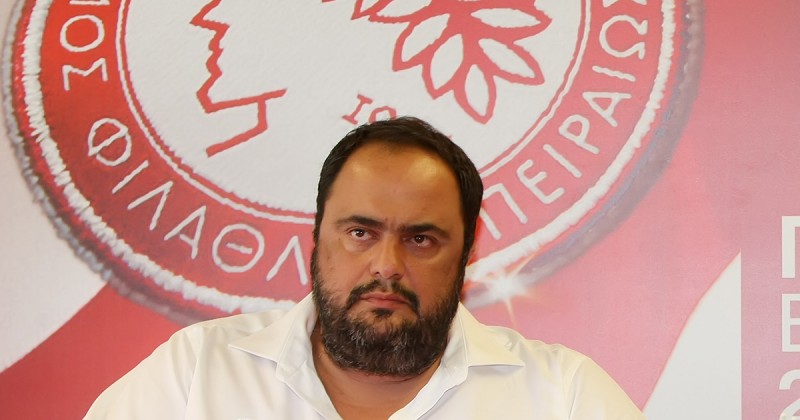 "But we continue to work and be focused. We create things and dream of a better future. It is disturbing that these people [the detractors] have no other defense than badmouthing our Club and of course me. Their time would be put to better use if they concentrated on running their own clubs effectively."
Marinakis is not the archetypal Greek football club owner, which is part of the problems he has been facing. For starters, he doesn't have any business interests in Greece and does not plan to change that. He spends a lot of time abroad travelling for his shipping business activities – though he rarely misses an Olympiacos match. He went to school in England from the age of 15, and then on to university. He took his first job in shipping in London as an S&P broker, and started his first business in the City of London at age 23. He spends time in London and says that it is the place where he is most relaxed and a second home to him.
Operating in a very competitive sector with large corporations, Marinakis has built a big business and has been repeatedly listed among the 100 most influential people in shipping.
Marinakis has also been linked with buying an English club – Nottingham Forest – but that deal appears to have fallen through. Rumors have it that he is still in the marketplace and there is no doubt that he has both interest and ambition
"In Greece (with Olympiacos) we have done everything we possibly can; we have broken records. We have raised the standards in Greek football. We have united the spirits and the hearts of the great Olympiacos family of fans both in the field as well as in all other activities we undertake to help socially challenged groups in these difficult times. So far so good but there is a bigger challenge ahead of us. To keep excelling in everything we do. In parallel, the football market is a fascinating business. I have grown in the understanding of the business and I like the dynamics of the market"
This suggests that there is more to come in terms of football investing and he makes no secret that the marketplace attracts his competitive spirit.
"What I have done in the last seven years with Olympiacos makes me very proud. I have invested in the club, in professional managers, in the stadium, in the players, in the training center. You are welcome to come and have a look for yourself. Clear your mind from what everyone may say, come and assess what we have achieved. I believe you will be pleasantly surprised and impressed. "
Even so, the accusations and innuendo have been never ending. And it clearly is starting to hurt. Insideworldfootball was the first medium to launch a series of critical articles about Marinakis and his activities. Now, given the opportunity to meet him, their story paints a much different picture of football in Greece and their operations.
"As a businessman and as the head of a family business I enjoy an immaculate reputation. We have done billions of dollars of transactions. We are publicly quoted in the US on Nasdaq and have raised in the last decade over one and a half billion dollars. I know what compliance is: we are faced with compliance issues every single day in our maritime business. "
"It has taken us 10 years in the US to get to this position of respectability and we are one of the very few companies in Greek history to achieve such a status. I cannot accept criticism from guys who have a history of defaulting on their debts, of criminal convictions and multiple prison sentences, guys who only know how to criticise and destroy." he said.
"In 2011 a case was opened against me but there never even was a trial. After four years I was cleared".
In a second case Marinakis was accused of being the head of a match-fixing gang – his response is simple and fast. "This is nonsense. This only became an issue because my opponent's employees and media pundits started to write about it in the newspaper and on websites. The case was opened entirely based on what was written in a newspaper and some anonymous letters. The matter went to UEFA and they concluded that there is no evidence. They said the so-called evidence of match-fixing was only derived from the mistakes of referees. There was no betting involved whatsoever. Panathinaikos took the matter to CAS and of course they lost there too."
"It seems if you find just four games – of well over 150 – in which the referee made mistakes in favour of Olympiacos, then I am the person behind it.
"All these allegations are truly ridiculous. I have spent more than €70 million on Olympiacos. And I never made a penny."
Put that way it does seem incongruous that a man with business interest of billions of dollars in a competitive, highly regulated and unrelated business sector to his football club, and who for the most part lives in a different country, would feel the need to fix matches and bomb referees.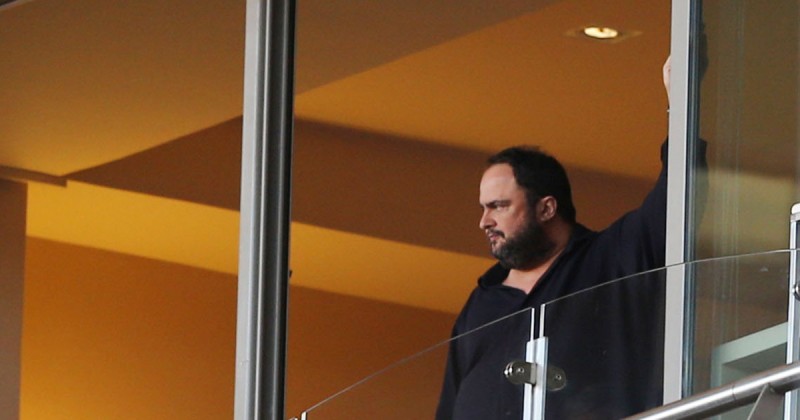 The owner of another directly competing football club, AEK Athen's Dimitris Melissanidis, is another outspoken critic and accuser of Marinakis; interestingly, he also owns a stake in the privatized state lottery and betting company. "I don't understand how that is not a conflict of interest. How the national betting company can have the same ownership as a first division club. And add to that the fact that they are the sponsors of ten teams in the Super League. How does this work in terms of conflict?"
Melissanidis's business activities range from shipping to port waste management to oil products distribution. He is also a shareholder in OPAP, the gambling corporation that has a monopoly in lottery gambling in Greece and the greater part of the Greek football's betting market.
Both Alafouzos and Melissanidis have recently hit the news over the non-payment of player contracts (see http://www.insideworldfootball.com/2016/12/30/aek-panathinaikos-owners-refuse-meet-player-coach-debts/).
This season Olympiacos lead the Greek Super League by 15 points from his main rivals. It is a league that is going through changes and for the 2018/19 season will drop to 14 teams from the current 16. The relative uncompetitiveness at the top of the league is a result of Olympiacos' local excellence but also the failure of other clubs to invest and compete meaningfully.
Marinakis says this is a big problem for clubs and the league. Perhaps surprisingly, he wants more competition in Greece. "We need more club level investment to make the league better. We would welcome new money," he says.
One thing he isn't so welcoming of in Greek football is the FIFA normalization committee that has stepped in to run the national federation. "It is not good for the country to have a normalization committee," he says. Considering how the Troika "normalized" the Greek economy so far, he may well have a point.
Olympiacos, The Legend
Olympiacos is more than a football club from the Athens port of Piraeus. It is a sports club in the full sense of the concept, with national champion water polo, volleyball, and basketball teams and a host of youth teams. Marinakis' father captained the water polo team in the 70s and he also played himself.
The sporting club has 15 sports departments, 1,300 athletes, more than 5,000 young athletes and over 100,000 members. It has won 11 European championships in basketball, volleyball and water polo. It had 30 athletes participating at the Rio 2016 Olympic games.
The Olympian ideals and the pursuit of sporting excellence are very much the founding principles of the sporting club, the passion and commitment evident in Marinakis and what he wants to achieve with the club.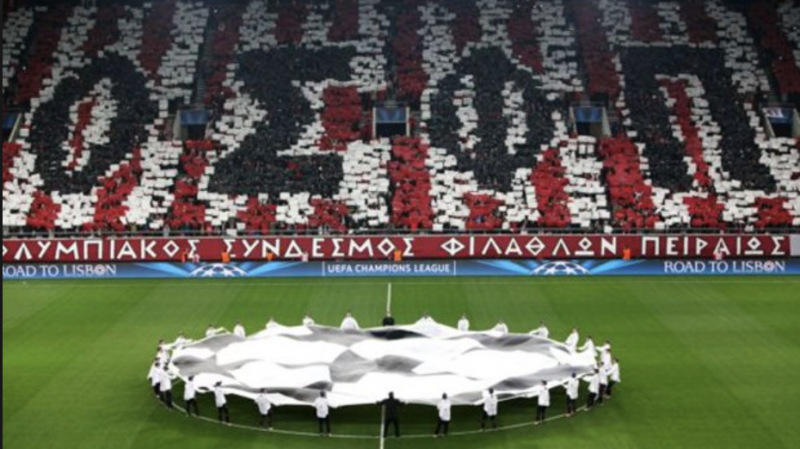 Being president of such an organisation comes with a local responsibility that Marinakis has embraced with his own time and his own money. He is a Piraeus Councilor and has personally funded various projects from the improvement and renovation of city squares to the development of children's playgrounds, day care facilities, summer camps as well as soup kitchens for those in need.
He is also planning to build a new arena and sports complex for Olympiacos's basketball, volleyball and water polo teams. A complex he will hand over to the city. A second football stadium for Piraeus amateur clubs is also under construction. That too, will be handed over to the city.
The role Olympiacos plays is important, not just in providing sports teams and facilities, but also in setting a compassionate tone.
Social responsibility
Piraeus for some time was on the frontline of the refugee crisis, with the port being a main entry point to Greece. Such was the scale of the crisis that the city was struggling to cope.
The football club on the order of Marinakis stepped in to help, with club vehicles going every day to the port to provide food, clothes and toys for refugee children. The volume of the support saw the restaurant at the Georgios Karaiskakis Stadium provide more than 100,000 meals, with the club supplying over 40,000 beanies and in excess of 20,000 other clothing items from windbreaker jackets to socks.
The aid was a vital relief for the refugees and the stretched Piraeus city resources. But there was also a wider social context.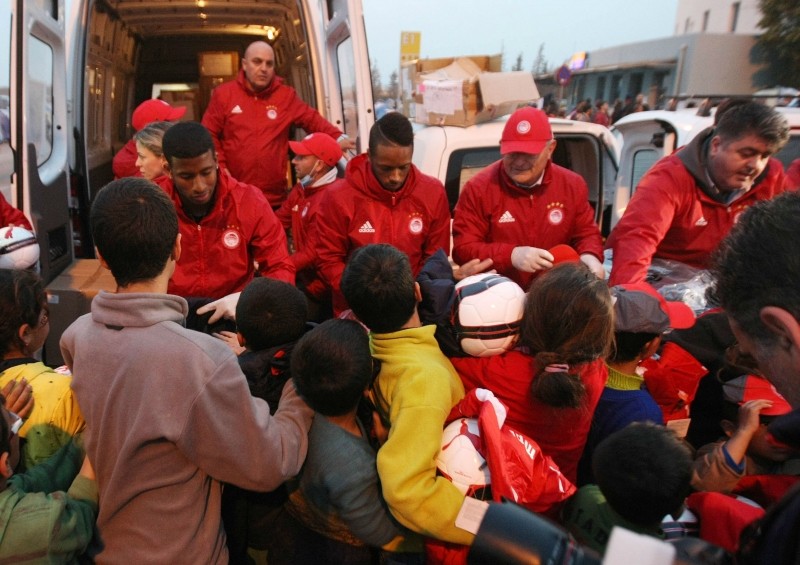 "What is was almost more important was that the players were involved and went there to help serve food. We all pulled together and helped stop what could have become a very bad situation for the city. It changed the attitude of local people to refugees," said Marinakis.
Changing attitudes doesn't happen very often and there are a lot of entrenched positions in football that never change, whatever the evidence to the contrary. Marinakis is aware of this and gives the impression of not seeming to care too much. But when it starts to impact on his business and his club, he does care.
There is a booklet that outlines Olympiacos's values. In that booklet there is a short message from Marinakis.
"Olympiacos is a way of life. A living legend.
"We are the biggest Greek sports club representing globally the values of Olympism.
"Our aim is to inspire people, the global sports community, to transmit the Olympian spirit.
"Safeguarding an ancient secret for future generations, as world cultural heritage.
"We dream, we love, we create, we fight, we survive, we win. History proves that we can."
Marinakis might not have written the first five sentences of this message. But the last two pretty much sum him up as a man, as a business leader and as a dedicated owner of Olympiacos.