THENATIONALHERALD.COM
Capital Link Hosted Insightful Culture and Education among Greek Americans
08 April 2021
NEW YORK – On the occasion of the establishment of the Miltiadis Marinakis Endowed Professorship for Modern Greek Language and Culture at The Ohio State University (OSU) and of the appointment of the first Professor, Yiorgos Anagnostou, Capital Link hosted the insightful webinar discussion on Culture and Education among Greek Americans on April 7.
Academic departments in the humanities have been dwindling in the past decades worldwide, as part of a wider shift of interest from the arts and humanities to the sciences. This shift is more practically oriented, but can endanger knowledge of cultural diversity, language, and tradition both for individuals and societies.
To preserve access to higher education about Modern Greece abroad, with Evangelos Marinakis as lead sponsor, Ohio Hellenic Paideia initiated and completed a new round of fundraising between 2015-2020, in order to safeguard the continuing operation of the Modern Greek Studies Program at OSU in Columbus.
The chair of the program has been named after Mr. Marinakis' late father, Miltiadis Marinakis, a well-respected philanthropist, who instilled in Mr. Marinakis a sense of duty toward his fellow man and pride in his Greek heritage.
The Miltiadis Marinakis Endowed Professorship for Modern Greek Language and Culture was established by The Board of Trustees of OSU on March 25, 2020.
The webinar highlighted modern Greek language and culture in the wider context of the Greek-American experience, preserving tradition throughout history, while absorbing and reshaping enriching influences, and evolving with global popular culture.
Speakers for the event included His Eminence Archbishop Elpidophoros of America, Ambassador of Greece to the United States Alexandra Papadopoulou, Capital Link President Nicolas Bornozis, Chairman - Capital Maritime & Trading Corp. Evangelos Marinakis, Yiorgos Anagnostou- the Miltiadis Marinakis Professor of Modern Greek Language and Culture at OSU, and moderator Gregory Jusdanis, OSU Modern Greek Humanities Distinguished Professor.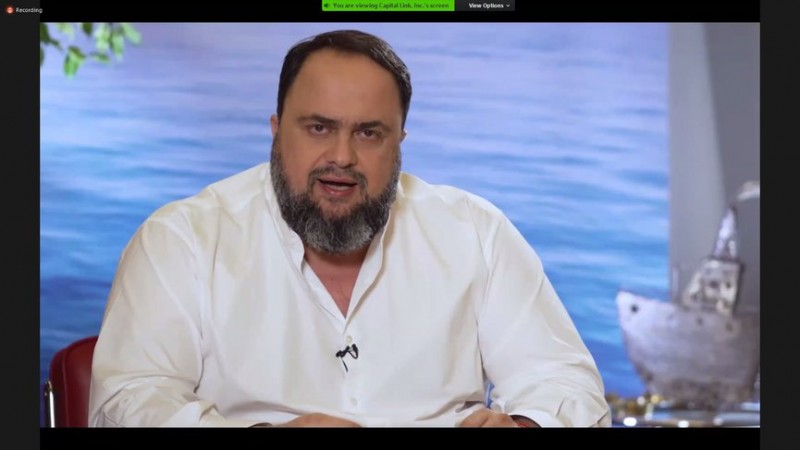 Evangelos Marinakis during the webinar Culture and Education among Greek Americans hosted by Capital Link. Photo: TNH Staff
The panelists for the event were John P. Calamos, Sr., Founder, Chairman & Global CIO- Calamos Investments, Chairman - National Hellenic Museum; Drake Behrakis, The Behrakis Foundation, Board Chairman- National Hellenic Society Organization, President- Marwick Associates; Robert Buhler, Chairman - PanHellenic Scholarship Foundation, President and Chief Executive Officer Open Pantry Food Marts of Wisconsin, Inc.; AHEPA Supreme President George G. Horiates; and Artemis Leontis, C.P. Cavafy Professor of Modern Greek and Comparative Literature Department of Classical Studies at the University of Michigan.
Capital Link President Nicolas Bornozis gave the welcoming remarks and introduced His Eminence Archbishop Elpidophoros who congratulated everyone for their efforts and the dedication to preserving and promoting Hellenic culture and education. "The commitment to the pursuit of truth is in the nature of the Greek soul," His Eminence said, adding that "today's theme is not only of the moment but of eternity."
Ambassador of Greece to the United States Alexandra Papadopoulou also shared her remarks and congratulations on the event via video. Evangelos Marinakis noted his late father's pivotal influence on his life, his philanthropy and in his support for the Modern Greek Studies program at OSU. The endowed chair was named in honor of his father, Miltiades Marinakis.
Professor Anagnostou spoke about Hellenic Paideia, founded in 1975 and the developments since that time. He urged everyone to visit the Modern Greek Studies, noting the evolution of the field and its multifaceted nature.
Bornozis then introduced the panel and the discussion moderator Professor Jusdanis who began with a reading of the poem Poseidonians by Constantine Cavafy.
John Calamos noted that taking a philosophy class in college, besides his major subjects, inspired him and later led him to endow a chair in philosophy at the Illinois Institute of Technology. He noted that with Greek philosophy, you learn how to think. Calamos also noted that at the National Hellenic Museum in Chicago, the focus is on getting the younger generation involved and perpetuating Hellenism and Orthodoxy, with culture and education programs, including those emphasizing the immigrant experience and how the Greek community has lived the American Dream, as well as honoring Greek-American veterans with the Oxi Day Foundation.
Drake Behrakis spoke about his family foundation and his own philanthropic giving at his alma mater Boston College. He noted that the National Hellenic Society Heritage Greece program which started with 15 is now up to 100 students making the trip to Greece. Getting young Greek-Americans to Greece, is life changing, for some it's reconnecting, for some it's connecting with Greece for the first time, Behrakis said.
PanHellenic Scholarship Foundation Chairman of the Board of Directors Robert Buhler noted that PanHellenic invests in extraordinary students, not only with excellent grades but who also have a great dedication to Hellenism. This year, at the June 19 virtual gala, 40 students out of 250 applicants will receive scholarships, but going beyond a scholarship, PanHellenic offers a significant mentor program where students can align themselves with top Greek-American professionals for about a year, and an active alumni community helping each other. To date over 600 scholars have received support.
AHEPA Supreme President George Horiates noted that the organization is a grass-roots organization, first founded almost 100 years ago to assimilate immigrants into American society, though now the mission has shifted to promote Hellenism and American Hellenic values which are the values of western society. Many U.S. Presidents have been members, Horiates noted adding that AHEPA's efforts include the path to diplomacy, the Journey to Greece program and support for all the other Hellenic organizations as well as philanthropic programs in Greece and the U.S. The celebration of the bicentennial of 1821 allowed AHEPA to highlight the special relationship between the U.S. and Greece. Horiates also mentioned the upcoming convention in Athens in July. He thanked all those for participating and expressing a shared vision for the future.
Professor Leontis spoke about her own experience growing up in Michigan and connecting with Greek culture as a young adult. She noted that at the University of Michigan they do "mission critical work," teaching, mentoring, connecting students with jobs, doing research, collecting items, and the public facing work. The community endowed the department and while some of the students are of Greek descent, some are not and it is often their first experience away from home that has a profound effect on their lives.
AHI President Nick Larigakis pointed out that when Gene Rossides started AHI almost 50 years ago, Greece and the eastern Mediterranean, Cyprus, was being challenged and threatened as they are today. If you follow developments in the region, Greece is being challenged constantly. The shared values and ideals of Greece and the U.S. were highlighted by President Biden in his speech on March 25th, Larigakis noted, adding that "to engage the younger generation, you have to take them to Greece and Cyprus." Referring to the AHI Policy Trip program for college students, "we should do whatever we can to advocate and facilitate the next generation being involved."
Philhellenes today are critically important as they were in 1821, Larigakis added.