PROTOTHEMA.GR
Olympiacos FC offers 500,000 meals to stranded refugees
20 March 2016
Olympiacos footballers give food, clothing, toys and a big hug to refugee children at Piraeus port

In these difficult times that humans' strengths and sensitivities are challenged, Olympiacos football club proves once again that it continues supporting the people who are in need by helping this time thousands of refugees who fled their homes to save their lives and found a temporary shelter at Piraeus port. It shows in practice that Olympiacos is "something more than just a football club".

At the initiative of Olympiacos president Vangelis Marinakis, who is always a leader when it comes to social solidarity issues, the team was on refugees' side from the first day. Olympiacos' solidarity vans go every day at Piraeus port to provide food, clothes and toys to the people who have suffered and continue suffering a lot. By Marinakis' order, on March 4, the restaurant at Georgios Karaiskakis Stadium started preparing thousands of portions of food on a daily basis for the refugees. This initiative of humanity, love and solidarity is overseen by First Vice President of Olympiacos FC, Savvas Theodoridis, team manager of football department Kyriakos Dourekas and coordinator of the initiative and CEO of Karaiskakis SA Vassilis Vassiliadis. According to Olympiacos FC, up to now Olympiacos has provided 50,000 meals, 40,000 beanies and 7,000 windbreaker jackets, socks and other clothing items. Many toys equivalent to the above figures have been given to refugee children, too. According to Olympiacos FC, their goal is to offer 500,000 meals and provide 100,000 clothing items. In Greece there are 46,200 refugees, and 4,500 of them are staying at the passenger terminals of Piraeus as well as in tents. Last Thursday, two football players of Olympiacos, Roberto Jimenez and Alejandro "Chori" Dominguez, visited the refugees at Piraeus port.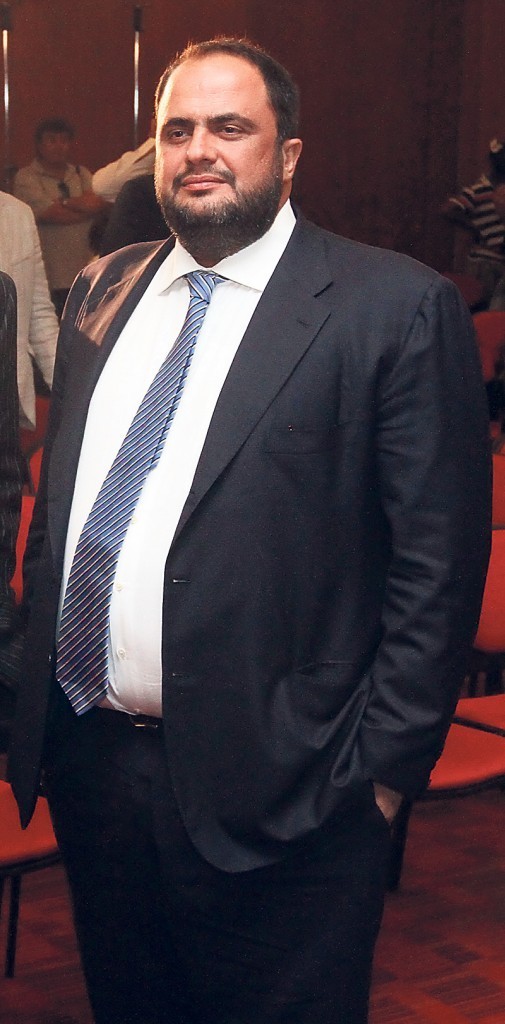 It was a special day, mainly for refugee children who had the opportunity to play with Olympiacos football players, forgetting for a moment how much they suffer and allowing themselves to be children again.

Children will always be children, even when the entire world is collapsing. A smile, a hug and a warm plate of food are their entire world!

Two of the leaders of Olympiacos team distributed clothes, such as jackets, beanies, windbreaker jackets, sweaters and trousers, balls, and food. Then, they played for a few minutes with the refugee children who could not stop smiling.
Speaking about this initiative undertaken by Olympiacos FC after Mr. Marinakis' desire and which is covered by international media, Mr. Theodoridis said: "It's nice to be here helping these people. Olympiacos is here every day helping the refugees by offering either meals or clothes, or even toys to the children. You all saw how happy they were. We gave a little help and brought some joy to the children. Just kicking a ball and playing with our players was something nice that made them happy. They enjoyed it and we are glad that we did that. What is happening here is tragic and all Greeks should see that. People are suffering and each one of us should offer whatever he can. The people of Olympiacos do everything they can to help these people. Every day we are here to bring some joy to these people who have suffered so much".

On his side, Chori Dominguez said: "The truth is that this is a very difficult situation. It is nice to have the opportunity to help. We see that the situation here is very difficult. This is a great initiative started by our President who helps people in need".

"As Chori said, we have the opportunity to see what is truly going on. To see how tough the reality can be and how privileged we are. More important than to show what is going on here and what kind of help we are giving to these people is to realize the seriousness of the situation. To pay attention to the fact that people do not live as comfortably as we do. The opportunity we have through Olympiacos' initiative to help these people makes things a little better for us", Roberto Jimenez said.