TRADEWINDS
Capital's 'green revolution' as Marinakis spends $6.5bn on energy transition fleet
Greek shipowner says it has been undergoing 'a silent green revolution' over past five years
27 July 2023
Evangelos Marinakis-controlled Capital Group's surprise speculative order of the world's largest liquefied CO2 (LCO2) carrier newbuildings is the "tip of the iceberg" in a spend of almost $6.5bn on newbuildings for what the company is dubbing its "energy transition fleet".
Capital Group executive Jerry Kalogiratos exclusively detailed to TradeWinds that over the past three years the company has sold more than 20 vessels with an average age of 12 years across the container and tanker segments.
In a rare revelation of Capital's vision for its fleet, Kalogiratos, who is chief executive of listed Capital Product Partners, said these have been replaced with 57 newbuildings costing close to $6.5bn in total with delivery dates extending from 2020 through into 2027.
The vessels comprise LNG carriers, LNG and ammonia-ready VLCCs and MR tankers, dual-fuel suezmaxes and LR2s and a range of LNG-ready container ships extending from feederships up to 13,000-teu vessels.
He described this as "one of the largest newbuilding programmes initiated by a single company over the last few years and definitely among the most diverse".
"Capital group has been undergoing a silent 'green revolution' over the last five years," Kalogiratos said. "The order of the two LCO2 carriers is the tip of the iceberg."
The LCO2 carrier orders unveiled last week were the latest bold dive into a new sector by the Greek owner and one which would appear to leapfrog those planned by at least one of its compatriots.
In a statement, Capital Gas Ship Management described its groundbreaking order this month for two $75m, 22,000-cbm LCO2 carriers as not only a "historical moment" for the Capital Group but the whole shipping industry.
The pioneering 22,000-cbm vessels, which have been designed to carry liquefied CO2 at -55C while also being capable of transporting ammonia and LPG, will deliver from Hyundai Mipo Dockyard in South Korea from 2025 to 2026.
"The company expects the maritime transportation of CO2 to become a rapidly growing market, in which it aims to hold the premier position," Kalogiratos said, adding that its fleet growth could mirror that of its move into the LNG sector.
Capital Gas Ship Management has ordered two 22,000-cbm LCO2 carriers at Hyundai Mipo Dockyard in South Korea priced at around $75m each. Photo: Capital Gas
Not obvious
Looking at the company's newbuildings, he highlighted that all the vessels are Phase III and Tier III, describing the decision to opt for Tier III for the container vessels as "not an obvious choice".
"Many owners chose to look the other way when they were offered predated contracts and ordered Tier II vessels as recently as last year, as the increased cost of the Tier III engine could be as much as $2m to $3m for a feeder container," Kalogiratos said.
"We chose not only to go for the latest in terms of energy-saving devices and equipment and compliance with current and future regulations at substantial increased cost, but also took a conscious decision to either prepare or equip our vessels for LNG propulsion."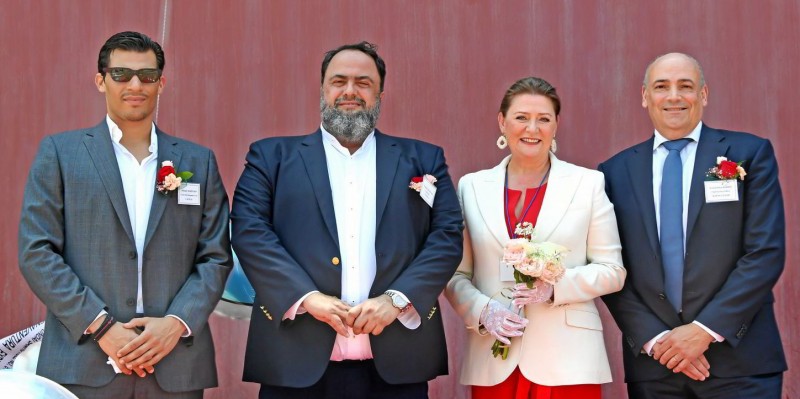 From left) Miltiadis Marinakis, Capital Capital Maritime & Trading founder and chairman Evangelos Marinakis, the godmother for the 13,312-teu container ship Buenaventura Express Judith Kroon and Hapag-Lloyd chief executive Rolf Habben Jansen at the vessel's naming ceremony in South Korea in June. Photo: Capital Group
Kalogiratos referenced Capital Maritime & Trading founder Marinakis' comments made at the TradeWinds Shipowners Forum at June's Nor-Shipping conference in Oslo, where he said that to decarbonise shipping today the only way in the short to medium term is to have very energy-efficient vessels and LNG dual-fuel propulsion.
Significant reduction
Marinakis said LNG can deliver with certainty a significant reduction of CO2 emissions immediately with a tested propulsion technology, abundant fuel and the infrastructure to access it.
He commented that while other alternative fuels will surely play a role in the future, waiting until the technology is mature and/or the fuel is available in the required quantities globally could mean losing years if not decades on the path to decarbonisation.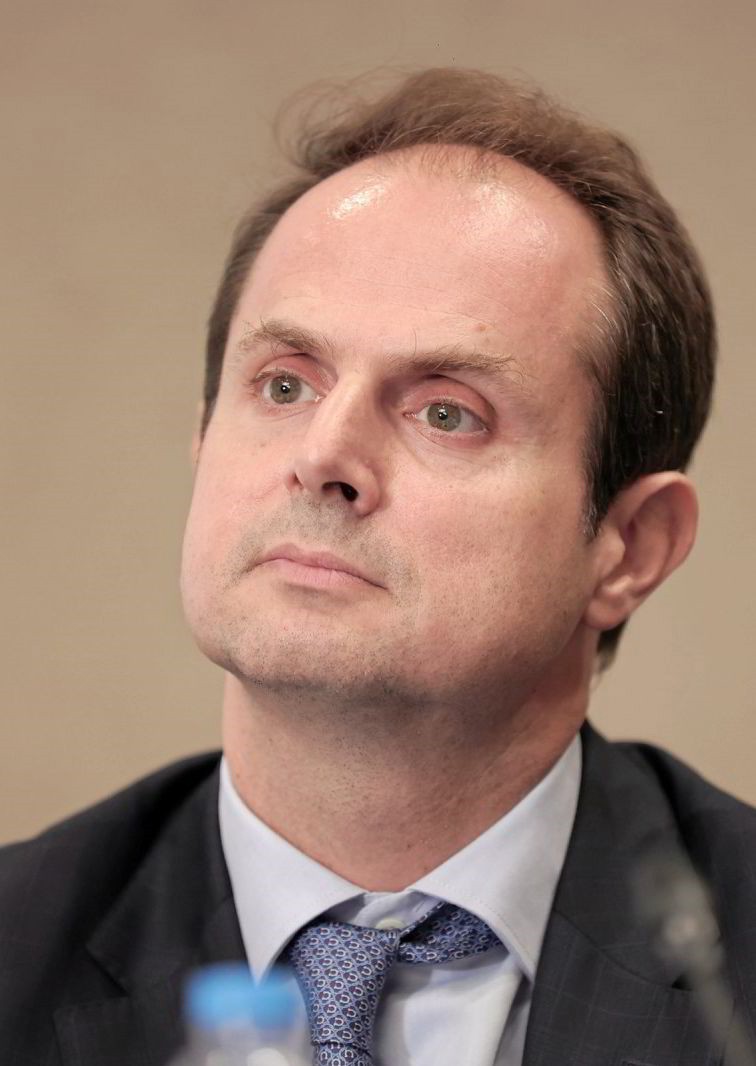 Jerry Kalogiratos, who is chief executive of Capital Product Partners, said the Capital Group has been undergoing a silent 'green revolution' over the last five years. Photo: Capital Link
"As we transition to a decarbonised, or at least, a net zero world, we have been building Capital's energy transition fleet led by the LCO2 carriers, the dual-fuel and dual-fuel-ready tankers, along with the very energy-efficient container ships which have been prepared for a number of different fuels including LNG," Kalogiratos said.
"We believe that with the onset of ETS [Emissions Trading System], FuelEU [Maritime] and potentially some sort of carbon levy or other market-based measures by the IMO [International Maritime Organization], such fleets that can deliver substantially reduced carbon footprints will be able to differentiate significantly from older vessels, as they will be able to deliver cargo safer, at higher speeds and importantly with lower carbon emissions."
Today, including its newbuildings, Capital Group controls a 106-vessel fleet comprising 38 tankers, 20 LNG carriers, the LCO2 carriers, nine bulkers and 37 container ships, which amount to almost 11.5m dwt.