Panama Canal drought holdups are 'just a kick' to the container ship market while it's down
But gas carrier market is poised to benefit from the snarls, Stifel analyst says
29 June 2023
Delays at the Panama Canal due to drought are doing no favours for a container ship sector that is already hurting from less demand, Stifel analyst Benjamin Nolan said.
The Panama Canal Authority has reduced transits and implemented draught restrictions as insufficient rains have lowered water levels at Gatun Lake, which supplies the canal with the water needed to lift crossing vessels.
Panama's rainfall amounts have fallen 47% year to date, compared to the same period of 2022, which has prompted the authority to restrict normal transit frequency by 85%, Nolan wrote in a note on Thursday. The authority has also limited vessel draught to 13.4 metres, according to Leth Agencies.
This has caused transit waiting times for LNG carriers, neo-panamax and panamax-plus boxships that are sailing from the Pacific basin to the Atlantic basin to reach 15 days, Leth data released on Thursday showed.
Waiting times for these vessels crossing the other way from the Atlantic basin to the Pacific basin are at seven days.
"Already the anchorage on both sides of the canal looked like a ship parking lot, and it sounds like things could get worse without a significant increase in rainfall," Nolan wrote after crossing the canal last week on board Capital Product Partners' 174,000-cbm LNG carrier Attalos (built 2021).
"Low water levels at Gatun Lake are beginning to cause havoc in shipping with ripple effects into other markets.
"Generally, we view the impact as positive for LNG shipping and LNG commodity prices, but negative for container shipping."
Virtually all of the container ships that were sailing from the Pacific basin to the Atlantic basin were "far from half full", increasing costs for liner operators while lowering freight rates, Nolan wrote.
"Canal issues are just a kick to an industry that is already down," he said.
"While this could be attributable to the lack of underlying container demand in the US so far this year, container shipping companies are said to have been pre-emptively reducing ship loads coming from Asia and going through the canal in order to reduce their draughts."
The Freightos Baltic Index, which serves as a barometer for the boxship market, fell from a high of 1,472 points on 12 June to 1,295 points on 16 June. Since then, it has declined steadily to 1,271 points on Thursday.
"Importantly, freight rates have continued falling … and costs were already high with inflation," Nolan said.
Conversely, the longer wait times and limited transit have benefited the LPG and LNG carrier markets because these vessels can sail elsewhere or cross through the Suez Canal or Cape of Good Hope, Nolan wrote.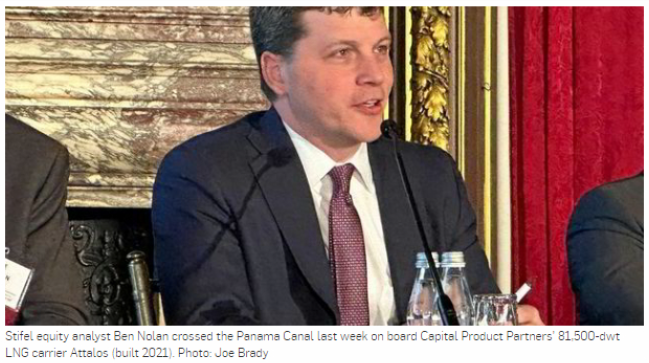 "Unlike container shipping, we believe it would likely be beneficial for day rates, and in fact there have been improvements in rates over the past few weeks," he said.
"As a consequence, the ships remain fully employed but simply take longer to get where they are going.
"As long as water levels restrict canal transitions, we expect these gas carrier markets could tighten further in what is normally a seasonally soft time of the year."